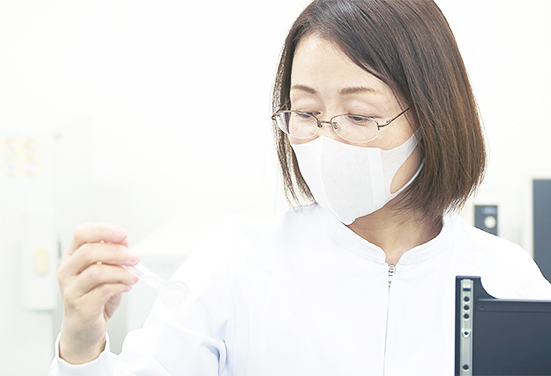 The Quality Assurance Department is a department involved in all processes from development to manufacturing and shipping. Inspect and confirm whether our products meet the criteria of predetermined quality. Even after being sold, we guarantee the quality of our products until they are used on each person's bare skin.
At the stage of formulation development, we perform safety / functionality evaluation, texture confirmation, etc. At the manufacturing stage, we perform acceptance inspection of raw materials/materials, bulk inspection, and in-line inspection. And the final state, we perform sampling inspection. We ship only products that have passed all of inspections and confirmations stipulated in our own standards.
In each process, human sensory tests are also performed in addition to instrumental measurements. In order to confirm the quality, not only precise data but also a sense of craftmanship is indispensable.